Work From Home Teaching French and Spanish
** Exciting News! **
No franchise fee to pay until you start working.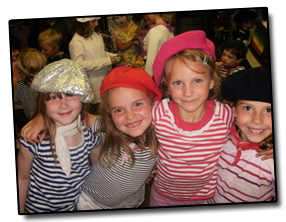 Why buy an LCF franchise?
What do I get as an LCF language club franchisee?

LCF Clubs: With over 5,000 centres, LCF Clubs is the largest provider of after school clubs in the UK. The activities in our structured courses are stimulating and engaging. They include storytelling, drama, crafts and many fun songs and games.
LCF Franchise Information for Smartphones (text only)
Work from home, you choose your timetable. An LCF Clubs franchise is an extremely convenient and satisfying way to work. LCF (UK) Ltd supply you with leads, train you to deliver our courses and run a business.
The UK's most popular French and Spanish clubs.
Education that is affordable and fun!
Why should I buy a Le Club Français or an El Club Español franchise?
Proven methodology for over 20 years
Over 300 clubs franchises in the UK, 40,000 children attend each week
Affordable language clubs for parents and fun for children
You choose how many hours you work a week
Low start up costs
Excellent profit margins, earn in excess of £50 per hour
Buy a home based franchise from LCF Clubs and start your new career teaching French or Spanish to children. Venues for your Spanish or French clubs can be schools, nurseries, playgroups, soft play centres, after school clubs or lunchtime clubs, or local community centres and church halls. There are also opportunities to teach in-school. Many schools now employ LCF teachers because they know LCF provides excellent training and supplies LCF teachers with first rate innovative resources such as Babelzone.

Read one of our franchisee success stories.
Create a fun lifestyle that suits you,
with this exciting home based business opportunity.
What do I get as part of an LCF Clubs language franchise?
LCF provides educational activities that are fun and affordable primarily for children. Activities are run directly by franchisees and you could be one. Itís rare to find a family-friendly franchise requiring little start-up capital. But thatís exactly the type of opportunity our franchises offer.
Our two franchises are LCF Clubs and LCF Jazz-Mataz. Both allow you to be home-based, running your clubs or activities from schools or other venues. Uniquely, both opportunities allow you to run your business according to your timetable, making our franchises the perfect family-friendly business opportunity. They are also popular with parents returning to work who are looking for a new challenge.
LCF Clubs is the market leader in after school language clubs. These clubs enable children to learn a language, have fun and make friends. Jazz-Mataz is a music and gym activity for pre-schoolers supporting the development of social skills.
These are no flash in the pan business opportunities. LCF has been established for 30 years. There are currently 300 franchises in the UK and 40,000 children attend an activity every week.
Only LCF has dedicated online support materials which you can use in Club and students can use at home, try them at Babelzone (stories-phonics-games-worksheets-songs).
We make it as easy as possible for you to get your own LCF Club franchise up and running and making money. Note that no language skills are necessary. You can employ linguists, so these are opportunities open to everyone.
Comprehensive training and support:
Teacher skills training at home using Skype, online training videos and at our regular national workshops
Marketing support and guidance again using Skype
A local successful franchisee will be your mentor during the initial setup period
An LCF support manager will contact schools on your behalf
With LCF you are completely in control of the hours you work. For relatively little start-up capital our LCF Club franchisees typically enjoy excellent profit margins with net earnings of £50+ per hour.
CHANGE YOUR LIFESTYLE Ė CHANGE TO LCF
Interested?
Telephone: 01489 786473
Email: joinlcf@gmail.com