LCF language teaching for Children, Teenagers and Adults
English - French - Spanish
LCF (UK) Ltd is centred in the United Kingdom. LCF started teaching languages in 1985 with a method based on the natural way that children acquire a language. With over 5,000 centres, LCF Clubs is the largest provider of after school clubs in the UK. We now have Master Franchises/National Distributors operating in Spain, Brazil, Hungary, Ireland, France, Belgium, Portugal, Australia, New Zealand, Macedonia, China and Turkey.
While we focus on tuition to children, programs are available for all ages. LCF programs are 'fun', children enjoy attending Clubs (groups of 8 or more) where they have a great time with their friends but in another language. LCF programs are designed to give students the confidence to speak in either English, French or Spanish.
Similarly adults can attend LCF courses that will encourage them to speak English like a native!
The activities in our structured courses are stimulating and engaging. They include storytelling, drama, crafts and many fun songs and games.
This video is from one of our English language clubs in Hungary
Traditionally programs have been book based however LCF has future proofed its business by developing innovative web based content allowing the very latest teaching technologies to be used. Today LCF has subscribers to its online content in almost every country worldwide and is expanding beyond languages to maths and online real time teaching to adults.
A franchisee joining in the UK will receive:

Marketing support
Teacher training
Their own dedicated website
Web based software to administer their business
LCF operates Clubs either within schools or rented locations in the UK. In your country you have this option or to operate from dedicated 'Centres'. Either way LCF will help to start your business so that it follows our successful example. Please review the UK online franchise sales video.
The advantages of an LCF Clubs
Master Franchise
Revenue
Franchise sales
A monthly franchise service fee
Sale of yearly inscriptions to students
Commission on subscription sales of LCF Online Content and Online Adult tuition within the Master territory
Support
LCF will provide its proprietary teaching programs for ages 3 upwards and of course full training both in the United Kingdom and locally detailing the delivery of lessons.
Advice on Business location and the design of the premises.
Business know-how concerning the efficient operation and profitability of an LCF franchise based on our 25 years experience.
Marketing plans and materials to promote the business.
Local on-site assistance from LCF staff for the initial franchise sales interviews.
Access to LCF Online Content for your franchisees and every student.
Assistance with customisation of LCF's online administration software.
Continuing support by email and Skype.
Online training from LCF staff will be available for every franchisee/teacher.
What resources do I get as part of an LCF Clubs Master franchise?
LCF's proprietary programs mean that those delivering them do not need to have any previous teacher training.
Preparation time is minimal therefore there isn't the need to employ an expensive Course Director. Traditional book based courses are supported by Online Content allowing students to complement their studies at home.
LCF English prepares students for internationally recognised qualifications.
Additionally LCF has Jazz-Mataz, music and gym activities for kindergarten.
Each year's Teachers' Book for 'The Kids Club' (years 1-5) contains 80 progressive lesson plans for 60 minute sessions with:
Suggested lesson structure
Vocabulary input
Step-by-step description of all activities and games
Links to the Student Books
Links to the English Kids Club CDs for songs and rhymes
Games Glossary with clear instructions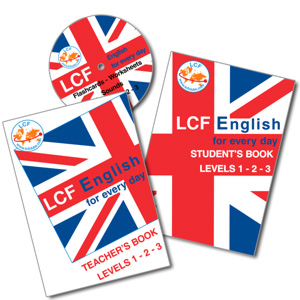 LCF is a proven concept for which there is universally high demand. Once a network of franchisees is established the system becomes largely self sufficient.
A hard working entrepreneur could easily do this within 2 years.
Interested?
Telephone: +44 (0)1489 786473
Email: joinlcf@gmail.com
Download our information leaflet

PDF 1.45MB